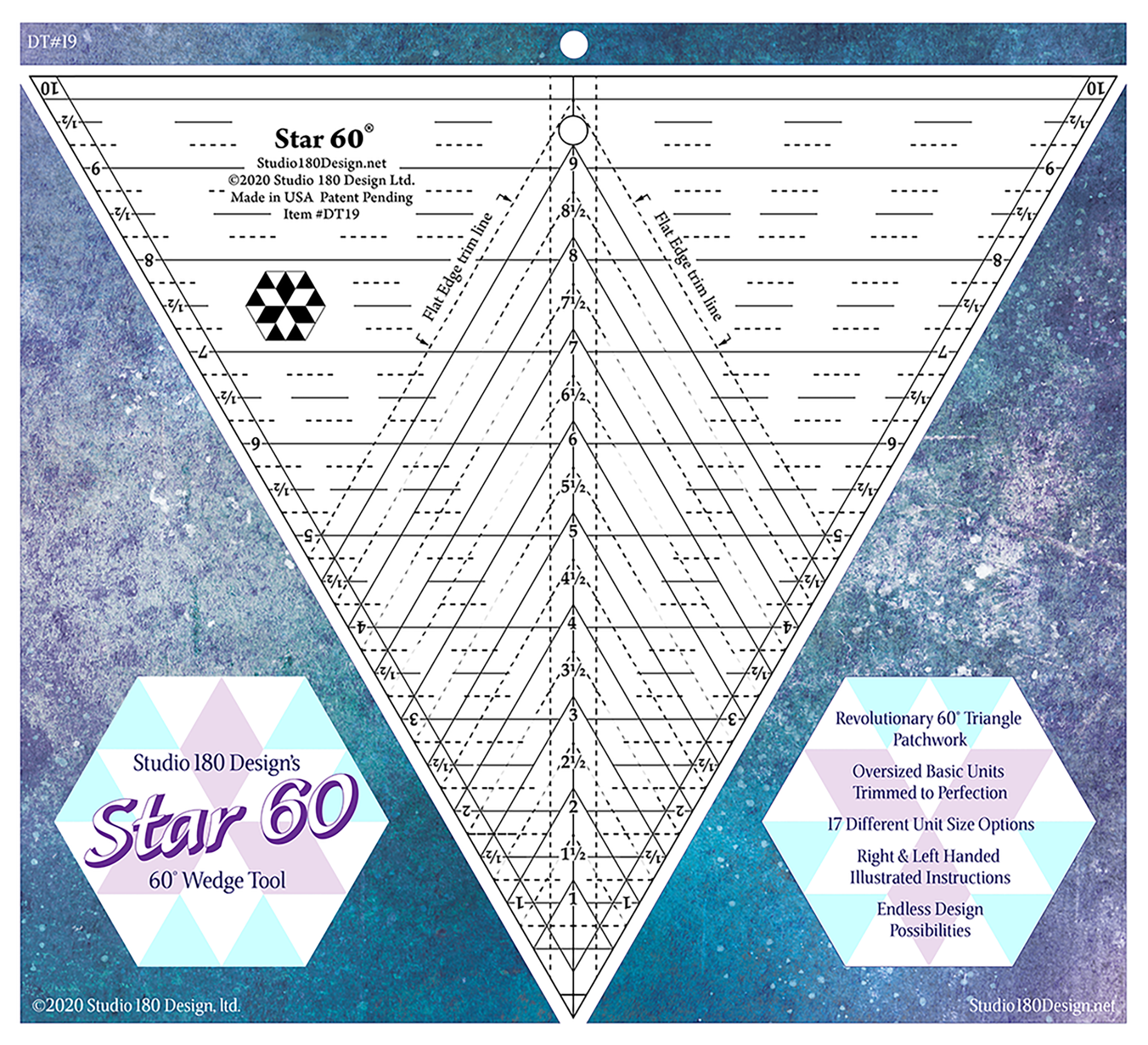 A Mystery Quilt series that is a Technique Building Series for the Star 60 tool.  
Learn over 24 different techniques using the Star 60 Ruler!
Each week will take you step-by-step through all the fabulous units and blocks you can make with this tool. There will be over 24 techniques shared throughout the length of the series. 
The earlier you enroll in the series, the lower the price. 
This Clue & Class Membership will offer weekly step-by-step online videos that can be watched repeatedly, whenever you like.    
As always, Michelle's Blog will feature a mini-pictorial and a couple quick tips for each week's block(s) and remain online.  However, the Blog will not have the detailed measurements, those are in the Clues and the Clues will only be available through a membership.  
Recommendation: For those needing/wanting additional help, Michelle highly recommends this Clue & Class Membership Option which will give you that extra help with step-by step guidance.
Mystery Quilt Information
Quilt Size: Large Throw/Double
Tool Required: Star 60 *
*You will received access to a discount coupon upon ENROLLMENT.
Fabric Requirements:
26-30 Fat Quarters 

Ideally made up of 4 Colorways, dual Complimentary color plans will work great. See my fabric recommendations below to get a better idea of what I will be using. You can elect to reserve one or both of those fabric selections or select your own fabric.  

Note: From mid-October to early-November, Michelle will be offering tips on fabric selection on her weekly Blog: Sew on the Go Blog

Background: 4 ¾ - 5 Yards

Border: 2 ⅔ - 3 Yards (includes Binding)
Included in the Clue and Class Membership
The Video and Clue will be available as each Clue is released.
Includes all 24 Clues. 
Each Friday, starting November 13th, you will gain access to that week's clue.
You will be able to immediately download the Clue upon its release.
Access to online/on demand weekly videos which will walk you through step-by-step through the weekly technique and construction. 
If you agree to "receive instruction emails", you will receive an email notification. 
Otherwise, you can log into your Teachable account each Friday evening and access the current and prior releases.  
Access to a private Facebook Group.
Access to a 10% discount code good at Michelle's online Shop
LIfetime access to the Clues and Videos.
Instructor: Michelle Renee Hiatt


Michelle Renee Hiatt is an award-winning Quilter, Designer and National Instructor. Michelle has been sewing since before she can remember, and fell in love with quilting over 20 years ago.  
Michelle Renee is a certified Professional Process Expert (LSSMBB); she uses her process improvement techniques and applies them to her quilting and teaching others how to simplify their piecing while improving the quality of their quilt making. Michelle Renee teaches throughout the United States at National Quilt Shows and Retreats!
Michelle Renee is the designer for her own pattern line Sew On The Go and her designs have appeared in several international Quilting Magazines. Additionally, she is a Certified Instructor for Studio 180 Design and many of her patterns have been published in their Modern 180 pattern line.
Michelle Renee is known for her humor, enthusiasm and encouragement!  You can follow Michelle on her blog at: ​www.sewonthego.blogspot.com and she can be reached through her website at www.Sewonthego.net.